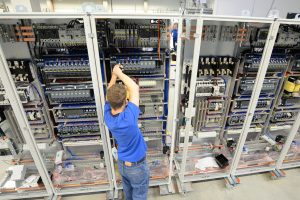 Among our products you will find a typical electrical distribution panels and cabinets for distribution of AC and DC power for specific projects.
We also produce mosaic synoptic tables used in many panel blocks and dispatch consoles which allow you to display the circuit power lines, video surveillance and monitoring, as well as various processes and dispatch consoles, used in continuous operation of controllers.
We also manufacture finished sets of power and control for all industries with a different purpose – from control of processing equipment to control of production lines. In our applications, we use drivers and equipment of supply and control of most companies operating on the European market, depending on customer preferences.