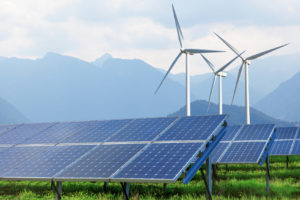 System of solar collectors for houses
System of photovoltaic panels for houses
Photovoltaic system for large buildings and solar farms
Solar systems for apartment buildings
Solar systems, i.e. solar collectors allow converting solar emission into heat energy. They are used to heat water and heat house. Considering the economic efficiency of the plant it should be understood that the solar collectors generally provide hot water in house.
Photovoltaics or rather the photovoltaic panels convert energy of solar emission into electrical energy. We connect photovoltaic unit to the existing electrical network of building. We have cheaper electricity in our outlets. Due to lower electricity costs, you can use it to heat water and house.
The obtained electricity you can consume on a regular basis, storage or sell – depending on the type of photovoltaic systems.
Considering the cost-effectiveness of photovoltaics should bear in mind that with a photovoltaic system, we "buy" energy supply for many years. Since the launch of the installation we get free electricity from the sun every day!
Advantages of photovoltaics:
Photovoltaics is free electricity from the sun's energy.
Photovoltaics is more than 25 years product warranty.
Photovoltaics does not require maintenance. Nothing needs to be replaced.